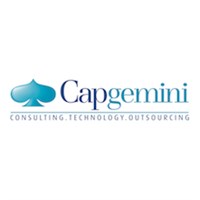 Capgemini UK plc
Type: Private
Founded: 1967
Employees: 130000
We often describe Capgemini as "one of the world's foremost providers of consulting, technology and outsourcing services". What this means is that we help companies and public sector organisations improve their businesses through smart, appropriate use of technology systems.
We can advise our clients on how to do this (the "consulting" part of our description), and if required implement and improve the actual systems (the "technology" part). We can also manage and run clients' IT systems on their behalf (the "outsourcing" part). We always look for ways to improve their experience and save them money, for example by putting some of their systems "in the cloud" or collaborating with colleagues in other countries such as India and Poland. 
We work in 48 countries, and have more than 130,000 employees. Many of our clients are names you'll recognise, from UK Government and London Underground to Burberry and Unilever.
If you're interested in technology and keen to train with some of the best people in the business, drop us a line. We'd love to hear from you.
Super Techies Show
Calling all UK university students!!!
Want to put your degree theory into practice?

Like the idea of something really AWESOME for your CV?
Fancy an all expenses paid trip to India?
Like the idea of flying the flag for the UK in a global competition?
Want the chance to win $25,000?
Then the Capgemini Super Techies competition is the opportunity for you! This is your chance to demonstrate your skills and apply them to a real-life business problem. The successful UK entrants will be invited to attend a UK final in July and the winning pair will travel, all expenses paid, to India for the semi finals in September where you will compete with other teams from around the globe. Not only that but the semi finals will be televised! The finals are due to take place in Paris in October, where there is a substantial cash prize on offer for the overall winners of the challenge.
The competition is open to teams of two who are invited to work on a case study. You will be invited to provide your solution to the case by the 25th June.
Please note that we're looking for a UK university team to represent us in this competition, so we are just looking for those of you who are university students.
Important Information:
About Super Techies
Launched in July 2012, the Capgemini Super Techies Show witnessed tremendous support and appreciation from technology leaders of global organizations and young techies from across India.
Riding high on the success of Season 2 which saw the show go international, Capgemini Super Techies Show returns with Season 3. This year it goes global in the truest sense of the term. Season 3 promises more action, tougher challenges, unmatched excitement levels and a tech battle with a twist.
Powered by ET NOW, Capgemini Super Techies Show Season 3 will bring tech professionals from behind the scenes to the forefront. Like in the previous seasons, it will give them an opportunity to prove their tech mettle at a global scale.
What's more? Season 3 will see students from the best universities across participating countries pit their skills against tech professionals to achieve the ultimate glory of being crowned Capgemini Super Techies 2014! As the rookies take on the pros, may the best team win!
Apprenticeships
Higher Apprenticeships
Got A-levels? Determined to become a top IT professional?
Join Capgemini's Higher Apprentice Programme and get sponsored as you study for a vocational degree. You'll also get work experience with one of the top companies in your chosen field, with the opportunity to develop outstanding personal, team and social skills.
If you are currently studying for or have already secured your A-Levels visit our website to find out more! www.uk.capgemini.com/apprenticeships
Advanced Apprenticeships
 Got GCSEs? Considering a move into IT?
Do you have a strong interest in IT and a determination to build a successful career in the field? If so, why not apply for Capgemini's Advanced Apprentice Programme? As an IT apprentice, you'll be working for one of the world's largest, most innovative companies.
If you are currently studying for or have already secured your GCSEs visit our website to find out more! www.uk.capgemini.com/apprenticeships
Graduates
We have three programmes for you to choose from:
Technology Graduate Programme
Management Consulting Programme
General Management Programme
Whichever one you choose, you'll have the opportunity to learn first-hand from industry experts, working with them on real projects. From day one, you'll enjoy real responsibilities and make a significant contribution to our success. Our clients are located across the globe and include world-renowned organisations in both public and private sectors.
Technology Graduate Programme
You want to be motivated
To transform the latest digital technologies into innovative client solutions?
You want to be on the Capgemini Technology Graduate Programme
The two-year Technology Graduate Programme recruits high-potential, motivated graduates and helps them become experts in the fields of IT infrastructure or applications.
You'll be challenged daily and given genuine responsibility right from the start. Throughout the process, you will have a strong formal and informal support network based around training, feedback and mentor counselling. And all the time you'll be working on and contributing to live client projects. You'll be in control of your own career – we provide the framework and support structure, and you decide how to use them. 
Be Rewarded: Your Technology Graduate Opportunities
As a Capgemini Technology Programme graduate, your potential career paths are boundless. Become a manager or team leader in a technical area such as SAP or Salesforce. Specialise in business development or project management. Be seen as a guru in digital technology or use the contacts and network you'll build to find an assignment overseas. The choice is yours.
Be Empowered: Your Training and Support
There are four components that make up your full Technology Graduate Programme training:
Formal Training. Both role-specific and personal skills; virtual training, face-to-face or a blend of both. You'll be encouraged to achieve professional recognition, including various accreditations and certifications.
Informal Training. You'll continually be working with industry experts who will help you to apply your new skills and develop new knowledge on the job.
Networking. You'll build contacts within the graduate community, and later across the business.
Mentoring. Once you join, you'll be assigned a "buddy" – typically a graduate already on the programme – along with several senior staff to support, guide and mentor you.
Management Consulting Programme
You want to be encouraged
To revolutionise the way global businesses operate?
You want to be on the Capgemini Management Consulting Programme
The two-year Consultant Development Community (CDC) programme offers you a career in a dynamic and interesting environment that challenges you right from the start.
A small intake of around 10-15 graduates means a focused support structure with plenty of opportunities to get to know your peers and create your own network. Expect amazing learning opportunities with a strong ethos of community support, collaboration and fun along with plenty of responsibility, as you'll be working and contributing to client-based projects within your first few weeks.
Be Rewarded: Your Management Consulting Graduate Opportunities
As a management consultant graduate, your career choices are endless. Our programme is recognised throughout the industry for turning some of the brightest, most ambitious graduates into expert management consultants. Several of our alumni are now Vice Presidents of Capgemini while others have gone to work on and lead highly specialised projects of their own. Our work with companies based in the UK and internationally gives you the opportunity to develop the core business skills that you will use throughout your career.
Be Empowered: Your Training and Support
A two-week induction led by graduating CDC members introduces you to how consulting works, helps you build your network and gives you the basic skills for your first project. After that, your formal training starts with a residential Consulting Skills Workshop run by our corporate university. You then complete a number of learning events within our academy structure, providing you with skills in communication, strategic analysis, collaborative working, financial analysis and other management disciplines.
You'll be placed in one of our capability teams, which cover the full spectrum of our business. After six months, you'll have the option to stay with this team or rotate into another one.
Throughout, an experienced consultant will be assigned as your counsellor to help you plan your performance and development. Your support network will also include a dedicated graduate scheme manager, plus a "buddy" – usually another graduate who's been with us a bit longer – and other members of our capability teams.
General Management Programme
You want to be recognised as a future business leader, valued for your specialist skills and knowledge?
You want to be on the Capgemini General Management Programme
This two-year rotational programme gives you experience across a range of disciplines including finance, real estate, IT, sustainability, HR, legal and marketing. You'll develop knowledge of all the business departments to provide expert advice and tools to all the internal business units while acquiring transferrable skills such as problem solving and creative thinking. Get exposed to an array of opportunities that only a global organisation like ours can offer. Our mission is to provide tailored exceptional services, enabling profitable growth and making Capgemini a great place to work.
Be Rewarded: General Management Graduate Opportunities
The General Management Programme is designed as a springboard into other opportunities. We see our ambitious graduates as future business leaders, and we strive to give them the opportunities they need to achieve their full potential. Within our development framework, you'll be shaping your own career from the outset, at first rotating between a number of roles and then (if you choose) specialising in one area. With Capgemini your career can go global, with many graduates going on request postings across the world in Europe, the United States, Latin America and Asia.
Be Empowered: Your Training and Support
There's a carefully defined and closely monitored learning and development framework for the General Management Programme. Within that framework, training is tailored both to your aspirations and what you need at any given time e.g, additional training (if required) each time you move on to a different business area. You'll meet our senior business leaders on a regular basis so you really understand what your function within the organisation is. We also help you define your own "brand" within Capgemini. From day one you'll be given a list of names to speak to in other strategic business units, so you'll quickly create a network and understand how the company works. We organise regular business updates across the company, so your knowledge becomes well-rounded. You'll be supported by a manager and a learning development partner from day one, as well as senior stakeholders, Placement Managers and our internal graduate network.