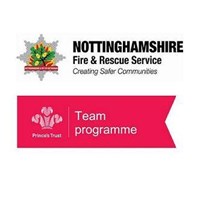 Nottinghamshire Fire and Rescue - Prince's Trust Team
Type: Charity
Founded: 2002
Employees: 10
Nottinghamshire Fire and Rescue Service has supported the work of The Prince's Trust for many years, recognising the strong parallels that exist between us.
The Prince's Trust Team Programme is designed to improve the lives of unemployed young people between the ages of 16 and 25 by improving their self-confidence, their communication skills, motivation and job prospects. They achieve this through community projects and teambuilding activities.
Participation is free, it does not affect the Jobseeker's Allowance and it's ideal for those who are being held back through a lack of confidence or qualifications.
This is what some young people have to say about the Team Programme:
Wayne, Nottingham: "I came on the Prince's Trust course because it seemed like a good idea at the time. Now I'm trying to get into the Fire Service. The Prince's Trust is good for young people, it makes you new friends, gives you confidence and positive outlooks to life."
Samuel, Nottingham: "Before this course I stayed at home playing on my PS3 but this course has helped me in many ways. The best part was the residential as it helped me become more sociable. Prince's Trust has made me more reliable and a better person in myself."
Sarah, Nottingham: "I heard about The Prince's Trust from Connexions. I thought it would be a good opportunity to try new things and build up my confidence. My favourite part was the residential because I conquered my fear of heights. I've gained some new qualifications and learnt new things and I would definitely come back again."
Courses are held in Worksop, Mansfield, Newark, Sherwood and Nottingham throughout the year.