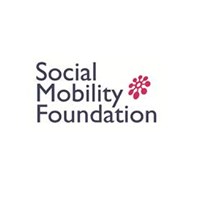 Social Mobility Foundation
Type: Charity
Founded: 2006
Employees: 11
The Social Mobility Foundation supports ambitious young people from less-priviliged backgrounds into top universities and careers. We run programmes for high-achieving year 12s across the UK, they're completely free and last right up until they graduate. As part of this, young people receive mentoring, internships with top companies, university application support and advice, as well as professional development and skills building workshops.
We help year 12s to get ahead in the following professional areas:
Accountancy, Architecture, Banking & Finance, Business, Chemistry and Biology, Engineering and Physics, Law, Media and Creative, Medicine, Politics and Technology.
We also run entirely free residentials for students interested in banking and finance, engineering, accountancy, law, politics and current affairs. These include a 2 week internship, fun evening and weekend activities, as well as advice sessions and opportunities to build professional skills.
2014 applications are open now, read about our programmes here.

Did you know?
The SMF worked with over 700 young people across the UK last year, from Plymouth to Glasgow!

Our students get career advice from top graduate recruiters and consultants, on everything from CVs, to networking to succeeding at assessment centres.

We have support from over 200 prestigious employers, who offer our students great work placements, skills sessions and high-quality career advice.

In 2013, SMF staff students travelled nearly 2,500 miles visiting Russell Group universities across the country and getting tailored advice for UCAS.

This year our most engaged year 12 students got to work in the offices of high-profile MPs, including the Prime Minister David Cameron and the Leader of the Opposition Ed Miliband. Students also met Nick Clegg at our Summer Reception.

Students on our residential programmes got to work in exciting locations such as the Foreign Office, J.P Morgan and Linklaters HQ.

Over half of our students from the past six years have received places at Russell Group universities.

In 2014 we're offering more programmes than ever, including residential summer internship programmes with the Civil Service, CH2M Hill, JP Morgan, KPMG and Linklaters.

93% of SMF students said they would not have been able to get their internship without the assisstance of SMF.

Since 2011, 1 in 4 MPs have hosted an SMF student.

Photos of our events are on our facebook page, if you're already an SMF student, see if you can spot yourself!