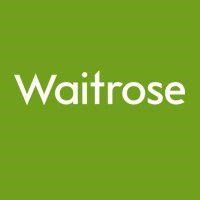 Waitrose
Type: Private
Founded: 1904
Employees: 50,000
Food is one of life's great pleasures, something we should all enjoy, every day. At Waitrose we like to do things differently. We care about our products, our Partners (Waitrose employees own the company), our suppliers and our customers. And we're committed to great quality.
We encourage our Partners to share our love for food, from how it's grown and cared for, to how it's packaged, presented and the entire in-store experience for our customers. Food is right at the heart of our brand and it's what we're famous for.
Our Partners make us who we are, whether it's offering our customers award-winning service, transporting tasty and ethically sourced food to our stores and customers, or working at our head office. What we give back is important too – our Partners' happiness has been core to the success of our business for over 75 years – and there are loads of reasons to love being a Partner, from Partner discount and our annual bonus, to holiday centres and money off gigs and theatre tickets. You can really drive your own career too, with training, a personal development plan and you'll be rewarded with good pay too.
Did you know?
Waitrose has its own farm, the Leckford Estate in Hampshire, which produces a range of goods including milk, apples, mushrooms and free-range chicken.
In the late 1980s, Waitrose was the first supermarket to introduce a new 'delicacy' called houmous
If you see a pig being reared outside on a British farm, there's a 25% chance the pork is destined for Waitrose
Waitrose was the first supermarket to switch to 100% Fairtade bananas, in 2007
Waitrose has worked with several fledgling British companies to launch their products

-

including Innocent smoothies and Tyrrells crisps
In 1999, Waitrose became the first supermarket to stop selling eggs from caged hens. Since 2007, all eggs used as ingredients in Waitrose products have been free range
Waitrose has 640 vans to deliver food through its Waitrose.com service
We price-match 1,000 branded products with Tesco every week
We export our own-label products to 30 countries, including Cyprus, Dubai and St Lucia
Which? Magazine readers have voted Waitrose top in their 'Supermarket Satisfaction Survey' for the past three years
In 1997, Waitrose was the first supermarket to introduce the idea of a reusable bag, with the launch of 'Bags for Life'
There are two choirs and an orchestra composed of John Lewis and Waitrose Partners
Waitrose Head Office in Bracknell has its own beehives - kept by Partners purely as a hobby