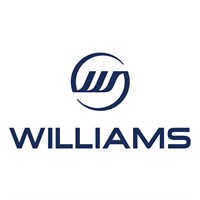 Williams
Type: Private
Founded: 1977
Employees: 600+
When you think of Williams you probably think of fast cars, racing and world travel – and you'd be right! But it takes a lot of talented people to get a Grand Prix car out on track, and Williams relies on more than 500 people at its factory in Oxfordshire to do just that. After all, being one of the best racing teams in the world means having the best engineers building the best cars in the world too.

So how did it all begin? Well, Sir Frank Williams and Patrick Head formed Williams in 1977 and since then we've gone from strength to strength, winning 16 FIA Formula One World Championship titles.

And as well as racing, we've set up Williams Advanced Engineering which takes the cutting edge technology that we originally developed for Formula One and adapts it for lots of other applications. One area where this has been most successful has been in hybrid technologies. We've used electro-mechanics to create energy storage systems that can help reduce green house gas emissions in things like buses and trams. Williams Advanced Engineering now has over 100 people working to bring Formula One technology to the wider world.

But let's not forget about the cars. In fact, Williams has a history of building cars at our factory for lots of different purposes outside of Formula One. Our engineers can design, develop and manufacture a tailored car to suit any customer's needs – pretty much however they want it. Perhaps that's why our engineers enjoy working for us so much – because we can turn ideas into reality faster than almost anyone else.


The Driver
Our drivers get through six sets of overalls and six pairs of race boots over just one season
Both race drivers will have a minimum of six helmets at their disposal this season
The drivers sign approximately 250 autographs at every Grand Prix and do an average of 20 interviews per race
Drivers' heart rates can reach peaks of 190 beats per minute during a Grand Prix
The Car
Over 50,000 man hours go into the production of our racing cars
Over 500 people at Williams are dedicated to the production of our Formula One cars
It takes four days to build the car from a bare chassis to a fully operational race car
After each race, the car is stripped down and 150 diagnostic checks are carried out before the next event
Our cars benefit from the team's seven-speed, seamless shift gearbox. The drivers will typically change gear up to 2,800 times per Grand Prix. At twistier circuits, such as Monaco, this number can increase to 4,000 times
A Formula One car generates peak lateral accelerations of 5G during cornering
Tyres can reach temperatures of 160°C
A Formula One engine must weigh just 95kg
The Speed
A Formula One car reaches its top speed at Monza, Italy, where our drivers recorded 220mph last season
Our cars can do 0 – 60 mph in 2.3 seconds…
... and 100 mph in 3.8 seconds!
They can do 0 mph to 100 mph and back to 0 mph again in 5.5 seconds...
...and its top speed back to 0mph in 3 seconds
Did You Know..?
This season the team will practise more than 1,000 pitstops over the year
The pitstop crew takes roughly four seconds to change tyres with 21 people in the pit box
Around 24 tonnes of equipment is sent to each Grands Prix, made up of about 10,000 individual items
The team will send 25 gigabytes of data from the race track to the factory and back again. That's equivalent to 35 CD-ROMs or the total amount of bandwidth used per household over a whole month
The team takes 1,000s of spare parts to each race
Over a race weekend, 70 radios will be used in team communications
Williams by Numbers
Williams F1 is one of the leading teams in motorsport. Here's our story told in numbers
114 victories
297 podium finishes
127 pole positions
130 fastest laps
220 races led
69 races won from pole position
45 victories led from start to finish
9 Constructors' Championships
7 Drivers' Championships
2 Recognitions for Frank Williams in the Queen's New Year's Honours List. Frank is the only team boss in the paddock to have received a knighthood in the Queen's honours list, which he added to his CBE award collected in 1986
The number 1 and 100th victories were taken at the team's home Grand Prix at Silverstone
1 Frank Williams is the longest serving Team Principal in the sport
Williams Advanced Engineering
Hybrid Technologies
We've decided to share our cutting edge Formula One technology with the wider world... So we set up Williams Advanced Engineering, which is taking Formula One technology and applying it to other areas to help tackle important issues such as global warming and road safety.
We all know the environment is changing, and how important energy conservation is, so we've developed a special technology called electromechanical flywheel energy storage technology. Our flywheel systems help to bring down carbon emissions and they're currently being installed on London buses as well as trams and railways. They make racing cars greener too. In fact, our flywheel systems helped power the Audi R18 e-tron quattro car to victory at the 2012 24 Hours of Le Mans race.
Driving Simulators
The importance of road safety is very close to our hearts here at Williams. In 1986 our founder Sir Frank Williams was involved in a serious road accident, and naturally this made us even more determined to improve road safety. To do this, at our Technology Centre in the country of Qatar, we've developed driver training simulators which mimic the experience of driving a real car. Taxi drivers in Qatar – where road accidents are a major problem – can practise their driving and go over certain dangerous situations that happen frequently on the roads there.

Our team in Qatar are also developing state of the art motorsport simulators. Our Formula One drivers use simulators all the time to prepare for races and we are now helping up and coming racing drivers across the Middle East improve their skills.
High Performance Vehicles
Williams doesn't just make Formula One cars. Over the years we have helped make rally cars, touring cars and endurance cars to name a few. We have also been collaborating with Jaguar to build the C-X75 supercar, the greenest and most technologically advanced car of its kind. Williams Advanced Engineering has a talented team who can design and build certain parts for high performance cars, or even a whole vehicle.
How to Get into Motorsport
There are currently in excess of 40,000 people working in motorsport throughout the world. Motorsport consists of various sporting events and activities undertaken by various vehicles. It employs people in a wide variety of different jobs and is a business worth millions of pounds in technology, investment and sponsorship. The jobs within motorsport are varied including technical roles, design jobs, mechanical roles and support roles including Finance, IT, Marketing, HR and Management.

For engineering based roles within Formula One, there are two traditional routes which you can take. The base qualifications for both of these routes are good grades at GCSE and A-Level in subjects such as maths (essential), physics, chemistry, design and technology, IT etc. This solid foundation will provide the opportunity to go on to study at college or university either as part of a Degree or Apprenticeship supported by HNC, or an HND qualification. It will also help you to determine how successful you might be at completing these key subjects at a higher level of education.

Ultimately during the recruitment process alongside academic achievements we look for relevant work experience, hobbies and interests along with good interpersonal and communication skills and a commitment and passion to work for Williams. Being a team player with a flexible approach to work and hours is essential for all areas of the company and you must have a 'can do' attitude.
Apprenticeship Route – For those more practically minded
For students who are more practical an Apprenticeship is a possible route as an alternative to A-Levels and a Degree. Such opportunities are limited throughout the motorsport industry, as well as throughout the engineering industry in general, but Williams offers a number of places each year to school leavers on its Apprenticeship programme. The better grades you have, the more opportunities will open up to you. In addition to good grades at school, initiatives such as F1 in Schools and Formula Schools, relevant work experience, part time jobs or related hobbies such as mechanics or karting will also help your chances of securing an Apprenticeship. The more you can demonstrate your determination and passion to be involved in motorsport through the contents of your CV, the more possibility you will have of securing an Apprenticeship with an employer who can help you achieve your goals.

At Williams we currently recruit 4 Apprentices each year on a 3/4 year course. We receive hundreds of CV's or letters each year about Apprenticeships. This demonstrates how distinctive your application or letter needs to be to stand out.
University Route – For those more theoretically minded
Our initial advice for this route would be simply to achieve the best GCSE and A-Level results you possibly can, particularly in science and maths subjects.This will determine the broad choice of universities and courses which you are able to apply for. We would also encourage you to study a Degree in core mechanical or aeronautical engineering, maths or science for engineering based roles. It is a good idea to seek advice at an early stage from the university you are intending to apply to. Find out the minimum level of A-Level grade you are expected to achieve and in what subjects so you can plan your education at an early stage. You may also want to explore the options available for a placement year and what companies the universities typically place students with. This will help you determine course fit.

Whilst studying for your A-Levels and at university use the opportunity to get some work experience through volunteering at local motorsport events, or getting involved in broader engineering initiatives, if your school, college or university offers them. Part time work on your CV at this early stage is also a good way of demonstrating your employability, even if it is just during your holiday periods. Also see if you can get involved in Formula Schools and Formula Student and other engineering based initiatives. Work experience relevant to the subjects or environments you wish to work in demonstrate your practical application of the skills you are learning at university. Even if not directly related to motorsport, the transferable skills can be imperative in making you an attractive candidate for a job vacancy. The same advice would also apply to placement opportunities and work experience.
Graduates Seeking Relevant Experience and Positions in Formula One

Typically teams look for students who have achieved a minimum 2:1 classification in a relevant degree. Vacancies occasionally become available for graduates in our design, aerodynamics, test facilities and advanced engineering departments. Alternatives to a direct graduate entry into Formula One could be to initially seek employment in other areas of the motorsport industry, including other motorsport series, rally car teams, as well as suppliers of Formula One teams. Other credible options include securing opportunities in the broader engineering, automotive and aerospace industries. The experience gained within such industries can also prove highly valuable in a Formula One environment