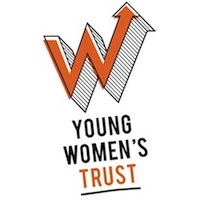 Young Women's Trust
Type: Charity
Founded: 1855
Employees: 15
We are a small, dynamic charity that aims to improve lifelong opportunities for young women aged 16-30 by addressing the poverty, inequality and discrimination that many of them face.
We have a proud history, having been founded over 150 years ago as YWCA England & Wales, but we have evolved and we now have a new focus and an innovative approach.
Our vision is of a society which respects and listens to young women, actively encourages their self-confidence and where they have the opportunity to be financially independent and participate fully.
Work It Out
Work It Out is a free telephone and online coaching service which helps 18-24 year old women with work, life and building confidence. If you are not in work, or have been in a job for less than six months, we would like to help you.
Coaching is a form of support which helps people make the changes they want in their lives. We can put you in touch with one of our trained specialist coaches, so you can arrange a time to have a free coaching session by phone or online.
To get started:
Call 0808 808 8099 (free from all landlines and major mobile networks)
Text/WhatsApp 07776 496780
BBM: 7e173af6
Email: workitout@youngwomenstrust.org
Facebook: YWT Work It Out
Get Involved
Join our Advisory Panel
As a charity, Young Women's Trust is committed to ensuring that young women – aged 16-30 – are engaged in the activity and development of our work. We are particularly keen to hear from young women who have current or very recent experience of the following:
Few or no formal qualifications
NEET (Not in Education, Employment or Training) ( aged 16-24)
Long term unemployment (aged 25-30)
In and out of low paid employment
If this applies to you and you would like to be part of our Advisory Panel, please get in touch via our website.
If you do not have this experience, but would still like to work with us, we are always looking for women and men of any age to help shape and participate in our campaigning and fundraising activities.
Become an Innovator
Young Women's Trust is keen to work with women and men of any age to help shape, develop and deliver our campaigning and fundraising activities. If you are interested in supporting us in this way, you could become an Innovator for us - please visit our website to get in touch.